March 2, 2013 | Tuner Galleria & Chicago World of Wheels
2013 Car Show Season KICK-OFF, Done Right!!
We had quite a few Nasioc Members attend last year and I would like to personally invite you and your friends back. Just make sure to bring your ride, to be judged against the best cars in Chi-Town! I am simply trying to spread the word to the Subaru enthusiasts!!
Please help spread the word amongst your community about this event. We are looking for the best car show competitors to put their vehicles on display in Chicago!
Tuner Galleria is a multi-faceted car show experience focused on high-caliber vehicles, their unique owners, and all the lifestyle elements relevant to this generational market.
This event encompasses vehicles in modern American muscle, sport compact, and European luxury and exotics. Lifestyle elements of the show create memorable experiences for the audience that goes far beyond any other event.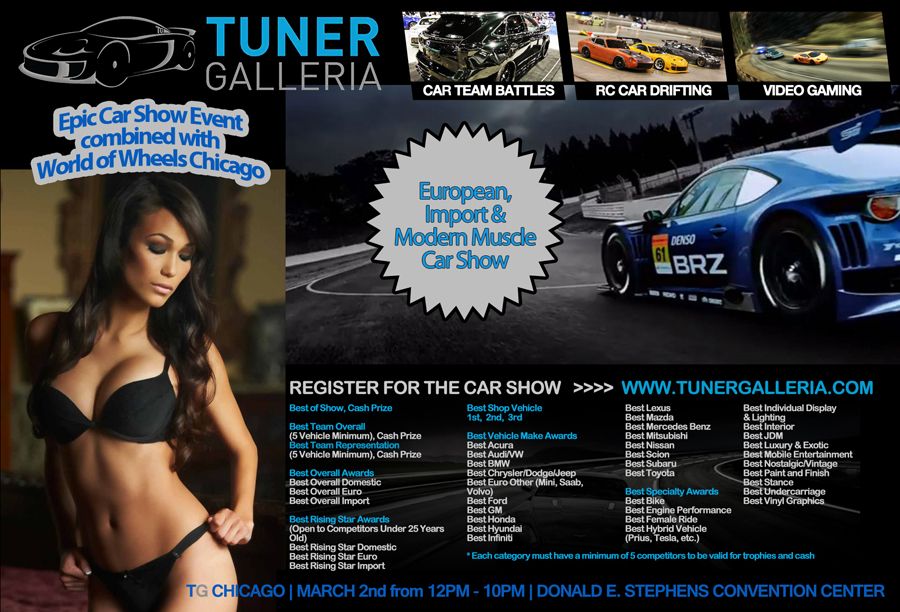 Individual car competitors and car crews from around the country and Canada will finally have a proper INDOOR venue to prove who truly represents the best in the tuner scene today. Major car builders and strong car crews from the United States and Canada have embraced Tuner Galleria's goal of bringing authenticity, trust, and respect back into the fragmented tuner car scene.
The Tuner Galleria movement understands that a car show is about the cars and about impartial judging by qualified industry experts. Leave the smack talk aside and prove you truly are the best at Tuner Galleria Chicago, the only INDOOR CAR SHOW for the tuner scene!
Please visit;
http://www.tunergalleria.com/registration/
for all your Show Information, Registration and Awards!!