So here we have LIC's conversion hub units for $559. >
HERE
< You can choose OEM wheel studs or ARP extended studs for another $100. They are listed as working with 2002-07 WRX and 2004 STI cars. More specifically I think it is simpiler to say these hub units must be used with 2005+ STI front knuckles (including moddified 2005+ STI knuckles including LIC, 6GUN, etc) amoung other conversion parts to utilize 5x100 bcd wheels and 5x100 related parts. Also note that this is the same p/n as the 2008+ STI's so really these should work with 2008+ STI front knuckles as well. Plus these could be used on other Imprezas and Foresters if the proper parts (i.e. proper knuckles) are utilized.
These are moddified OEM parts (28373FE001 -> 28373FG010) so keep that in mind. I am concentrating my review on the moddification aspects. The usage will be the same as any other OEM STI wheel hub unit. Again this is a part review so that's where I end with application specifics. Please this is not the place to ask about conversion specifics. I will only say if you do not know what these need to work then FORGET ABOUT USING THEM, you probably do not need them anyways.
They come in bubble wrap and in pairs. I went with OEM wheel studs because I don't really have a need for the ARPs.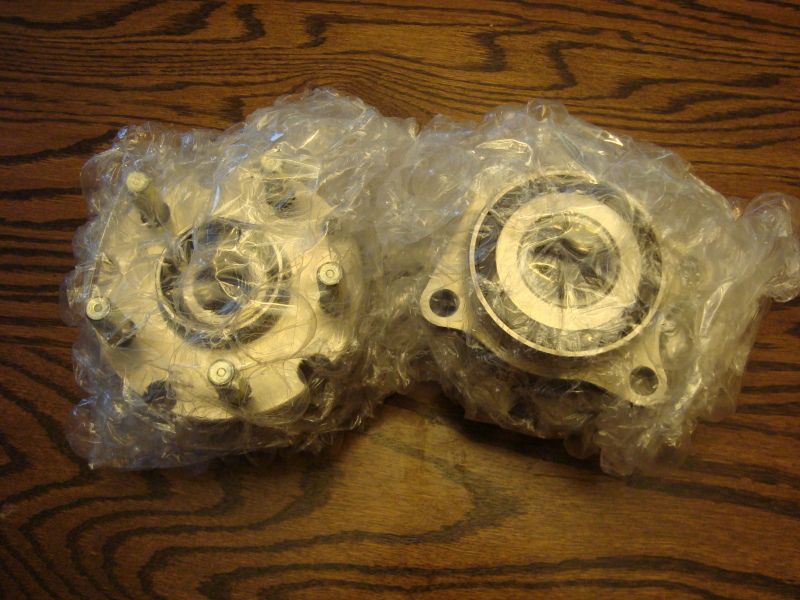 Hub side and bearing side. The work into these is pretty nice, this is certainly no hack job. Concentrate on the hub side for the moddifications. Reduced hub OD, camfer on both edges, redrilled 5x100 bcd, clearanced wheel studs, and they even filed away the sharp corners in the old 5x114 stud holes. I never even thought to do that when I was reassembling my prior hub units. They machine these assembled (instead of taking the hubs out like I used to) the hubcentric surface is certainly used for lathe attachment, there are witness marks. I suspect the 5x100 bcd is added while mounted to the original hub OD surface, then the hub OD is taken down while mountd to the hubcentric surface. Hub OD is fairly true so that should preserve the trueness of the bcd.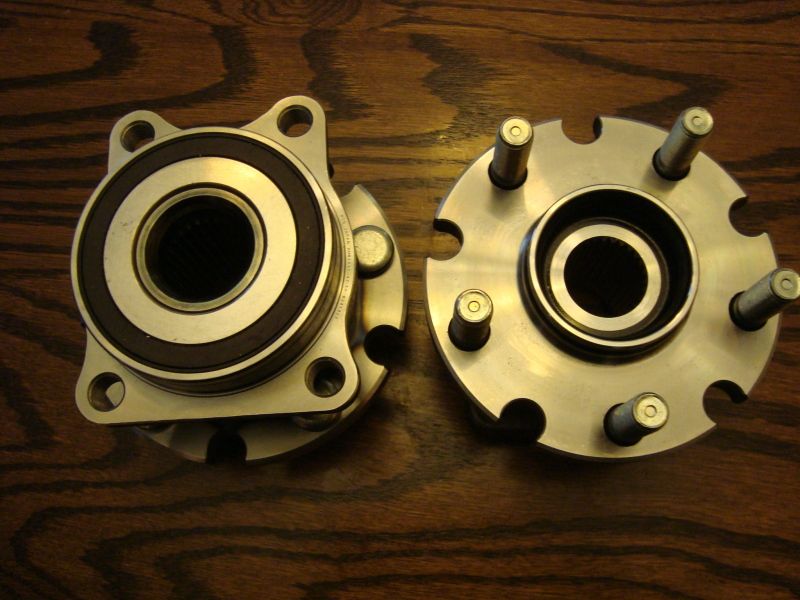 This shows the importance of the clearancing done to the wheel studs. The wheel studs move inboard and closer to the larger bearing unit. If you do not clearance them they will contact the housing and cause drag and depending on direction can loosen the wheel lug...among pesky noises. You can also see the corners in the old stud holes that were filed down, otherwise they are sort of sharp on the old digits.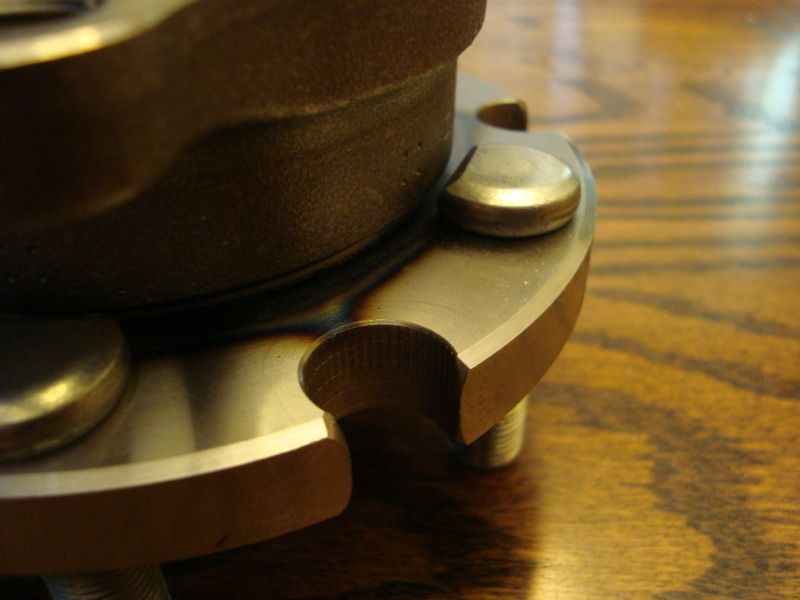 My thoughts:
1)The I would add to these is to TIG tac the wheel stud shoulders to the rear face of the hub. It only takes one per wheel stud and will not warp the hub surface if done correctly. Just make sure to fully seat the stud into the hub first (using a spacer and lugnut torqued to wheel spec).
What it does do is ensure that a wheel stud will not shift and make contact with the housings. It happens, trust me I've witnessed it via others as well as experienced it firsthand.
2)It would be cool to repack with NEO800 grease. Although I suspect that could be a costly option since I've done it before and its a time consuming endevor.
3)Somewould say a bit spendy at $559 + shipping but bear with me for 2 reasons.
1- This easily offsets the cost of new wheels, new brake rotors, and new spare wheel to match if you were to go with the 5x114 bcd.
2- I have had similar parts made for knuckle upgrades on other cars. It had me getting the new bearings, pressing them apart, sending the hubs out for specific machining (and not just at any old machinist), and pressing the hubs back into the bearings. Do all this without anyone involved damaging the bearing surfaces and keeping the parts matched up. Plus there is driving around time and extra shipping costs to incurr. LIC's price point after factoring all that in isn't that much more than what I had invested. Most people are not goping to spend the time to figure out what to tell the machinist anyways. Being able to order these from your computer and just install them when they arrive is worth something, right? Easy peasy.
Noah spent time answering my pestering emails, their service is great. I would not hesitate to order more of these hub units or other parts through LIC. Thanks again.
I live in the US so I'm intentially using USDM MY breaks.