Hey All,
Long time lurker first time poster here. A little info about the car / a story before I get to the questions I have:
-Bought the car June 24th, 2012 with ~184,000km completely stock for 4688$.
-Was in front end passenger side collision, no frame damage, retained clean title. Only part above headlight needed to be straightened a bit.
-Hail damage on passenger side along with dent in rear quarter panel.-
I got it home, changed all the fluids other than rear diff because bolt was beyond rusted. I went to my Subaru dealership the next day to order some parts.
-battery
-hood
-front passenger fender
-front passenger fender liner
-fog light inserts
-STI bumper wind splitters
-passenger side headlight
(The price for a headlight was absurd so I checked local listings and found one for 45$!)
-Also found a replica STI front strut bar for 15$ + 6 pack of beer
-Konig formula 10 17x7 rims + tires
Week later all the parts had arrived, and were ready to be installed! It finally looked like a car again! It fired up and ran like crap, very sluggish and slow. My previous car was a 2008 Saturn Astra XR, and I wouldn't call that fast but it was definitely faster. Seemed like the car wanted more but struggled to get anywhere. Drove to work and back the one day and parked it again. Inspected the car a little more closely, Quickly found the timing belt components were very worn and needed replacement. So I got online and ordered some parts!
-Gates racing timing belt + water pump kit
-Cobb lightweight crank pulley
-New OEM spark plugs
-Cobb F+R Shifter bushings
-RS-R Catback exhaust
-Rally armor mudflaps
-Hella supertones
(~184,000km)
Took it to a shop and started with a compression test: 130, 125, 130, 130. Got the ok from the mechanic and installed the parts. OMG the car blew me away. It drove and sounded like a completely different animal, although that feeling quickly wore out and it left me wanting more. Over the next months I acquired a few more parts!
-Used Invidia bellmouth downpipe
-New SS Invidia catless uppipe
-AccessPORT V2
-Mishimoto silicone radiator hosess
-Mishimoto silicone intercooler hoses
-Ebay brand silicone auxiliary hoses
-Used desmond marquis promada regamasters 17x8 in white
-JDM V7 STI cluster
-1996 JDM Type-RA 16x7 rims + winter tires
(~202,000km)
Got a family friend to install these for a 1hr shop charge (the install took around 5 hours with all the uckfaying rusted bolts) Dropped it off in the morning, went to work but the excitement was too much. Told my boss I wasn't feeling well and took the day off, went right back to the shop to see if I could help out. Soon as it was done, flashed stage 2 and went for a drive out towards the mountains. WOW. It was an unforgettable experience, everything I was expecting and so much more.
Throughout months of daily driving, and ski trips into the mountains the car proved to be very capable but could clearly feel it needed some suspension work. Saved money throughout the winter and ordered parts again come spring time
-OEM headgasket + related gaskets
-OEM valve cover gaskets L+R
-Exedy OEM replacement clutch
-Goodridge SS clutch line
-STI 5MT transmission mount
-Beatrush forged pitch stop mount
-Kartboy SS
-Whiteline F+R 24mm swaybars
-Whitline F+R endlinks and bushings
-F+R Koni Yellow strut inserts
-Tein high tech springs
-F group N strut mounts
-Stoptech Stage 2 Sport Kit
-AMR cast aluminum turbo inlet
-Used 47,000km TD04 turbo
-NGK iridium 1 step colder spark plugs
-Used 47,000km WRX intercooler
-Cobb SF Intake + Box
(~237,000km)
Went back to the family friend and got the parts installed, took about 3 weeks as he was just fitting it in around his main jobs at work. The wait was gruelling, had to drive my brothers 2000 Honda civic around, its a comfortable car but man its so gutless. When I got the car back, it was a dream come true. Every flaw that I could see in the car at this point was eliminated. Never have driven a car so planted and exciting. Even in daily traffic driving to work and back it's hard to drive without a giant grin on my face.
I have a list in my room of mods / parts I am planning to get and someone had read that list before my birthday I received:
-ATI triple gauge clock pod
-Prosport Halo Boost gauge
-Prosport Halo Oil Pressure gauge
-AEM wideband gauge
-Cobb 5MT shifter knob
I installed all three on my own following guides from this site / common knowledge, was really quite easy.
The car is now at ~240,000km and increasing daily as its my only vehicle.
I'm completely satisfied with the way the car feels on the road at the moment. My questions are in concern of long term + winter reliability.
1. The car is still running a OTS stage 2 tune from COBB, as far as I have read all the mods I have listed / completed should be within the parameters / would not require to be tuned for.
HAVE I READ WRONG?
2.
Pro-tune or E-tune?
There is a tuner in my area well reviewed for subies and other turbo'd animals. The tune would be roughly 500$ and at the moment I'm not sure that's feasible (due to recent natural disasters work over summer has been slim) rent and food is a priority over the car. I have heard E-tunes are much cheaper.
3. I installed my AEM wideband in the downstream O2 sensor location, from what I have read this should be okay and even increase the longevity of the sensor. (I currently do not have any lights / codes on the dash) I am waiting for a Ebay cobb style catback to arrive, that I ordered over 3 weeks ago which still hasn't arrived. So there is no catback on the car at the moment, it's dumping straight out the downpipe. (loud but man it sounds mean) I've read very mixed reviews on this topic...
Can any damage arise from prolonged driving without a catback? Will it cause any damage to the sensor / skew the readings of the wideband gauge? Do I need to get a new bung welded in closer to the turbo?
4. I installed my prosport oil pressure gauge with the sender located underneath the alternator.
Are these readings OK?
Cold start idle - 15-25psi
Cold driving - 20-30psi
Warm idle - 10-12psi
Warm driving - 10-30psi
5. With all my current mods, all that is left in my eyes is:
-STI steering rack + bushings.
Are there any other mods I should do? keeping longterm reliability / fun daily driver in mind.
(I may have missed something when it comes to parts/mods, and am looking at maybe doing a few auto cross/track day events next summer)
Thank you for reading this I hope it was not just a giant wall of text. I am looking forward to being part of the community
Now for some pics:
Here are some very recent datalogs if anyone would be so kind as to analyze them and tell me if my engine is in trouble or not!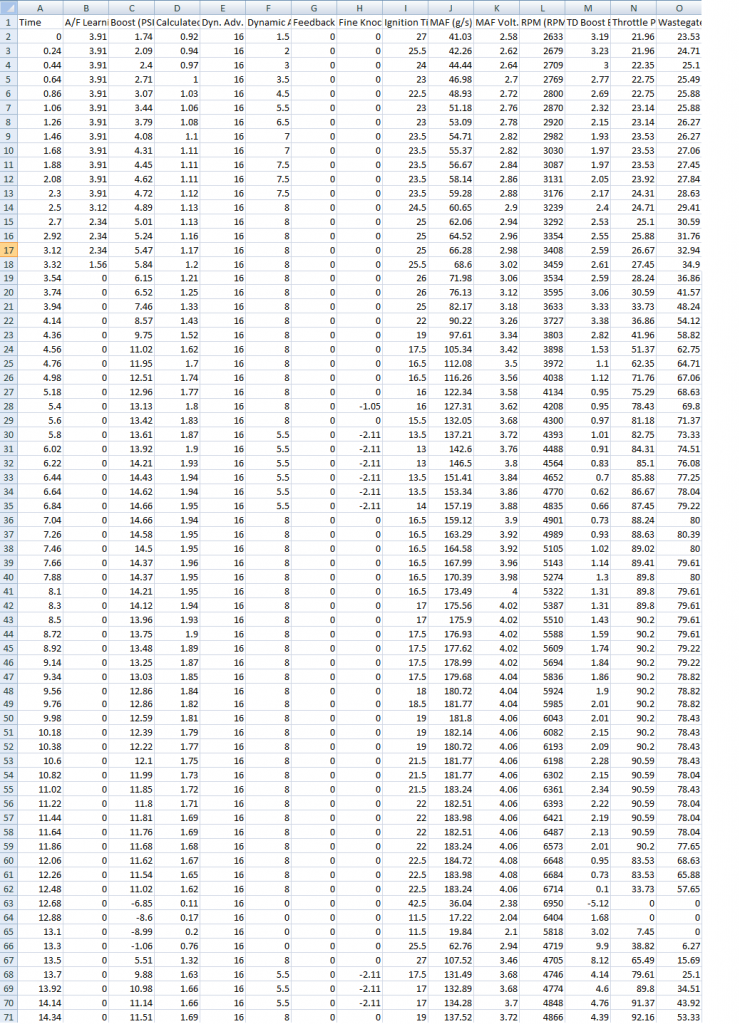 #2
And just some random pics of the cars progression.