I recently aquired a full Ultimate Racing rotated turbo kit T3/T04S w/ precison racing .63ar housing.
http://www.full-race.com/store/turbo...0-1-turbo.html
http://www.ultimate-racing.com/Produ...TurboKit.shtml
The turbo is used and needs a rebuild; the going rate for one of these turbos is at the most $900.00 new. Before anyone asks if this is bigger than a 20g, it flows between 60-62 lb/min.
I am selling it because i am looking to go bigger; Pure Turbos quotes a rebuild at $325.00.
If you want to skip the rebuild and go for a new chra you can find a new chra here for $400.00
http://www.ebay.com/sch/i.html?_trks...at=0&_from=R40
I aquired this turbo from Evo-killr, and i_adz had it before him. Feel free to research their posts.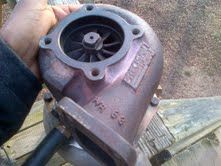 Picked up, met up no further than Woodbridge or Fredericksburg for $300.00; if you want it shipped then thats on you......even shipped its is still cheaper than brand new.