Shop: Motion Lab Tuning
Dyno Type: DynoCom FX5000-AWD
Temp: 51F
Boost: 0
Fuel: 93OCT Unleaded
Target AFR: 13:1
SAE Corrections: Default Corrections
Peak HP at RPM: 137whp @ 6200 RPMs
Peak Torque at RPM: 140wtq @ 3100 RPMs
Transmission: 6Speed
Gear: 4th
Engine Management: Cobb AccessPort Speed Density software
Engine/Power Modifications:
%100 stock!
Here is a 2013 FR-S (BRZ in disguise). The graphs make the car look pretty pissed off. Not sure what was going on, he was here simply for a baseline pull. Pulls were consistent in 2wd mode with load, 4wd mode inertia only, and 4wd mode with load. High run of the day was 140whp. This graph is the final pull we did prior to pulling it off the dyno. Hopefully a few bolt ons in the future and re-tune with the ECUTek software will make for much smoother power!
Final HP/TQ Graph: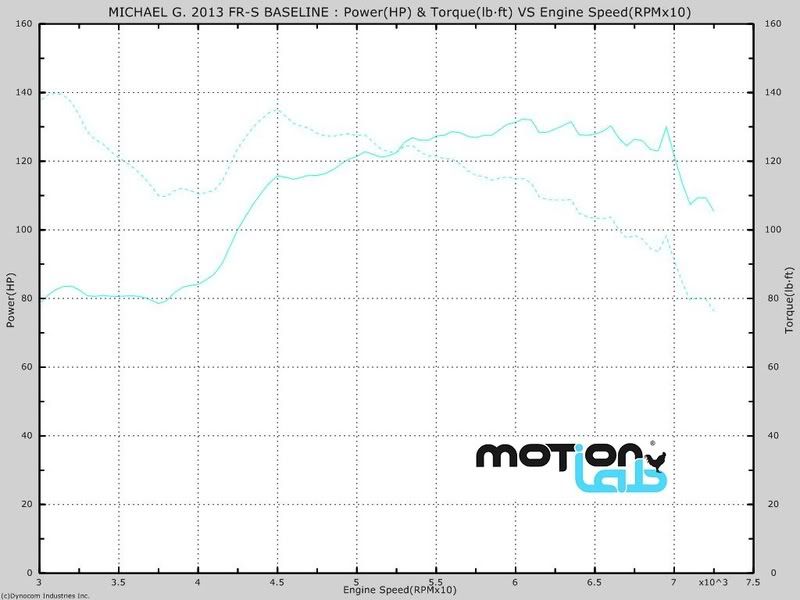 Follow whats going on at the shop on our Facebook page
Motion Lab Tuning - Automotive - Charlotte, NC | Facebook
Thanks for looking!
Alex Goodwin
[email protected]
MotionLabTuning.com - Engineering Performance