Shop: Motion Lab Tuning
Dyno Type: DynoCom FX5000-AWD
Temp: 58F
Boost: 20psi
Fuel: 93OCT
Target AFR: 11:1
SAE Corrections: Default Corrections
Peak HP at RPM: 236whp @ 5350 RPMs
Peak Torque at RPM: 267wtq @ 3900 RPMs
Transmission: Stock 5speed
Gear: 3rd
Engine Management: Opensource tuning
Engine/Power Modifications:
TurboXS High Flow catted downpipe
Grimmspeed 3" adapter w/ stock exhaust
Invidia up-pipe wrapped with HSP Lava wrap
Motion Lab Tunings own 3-port EBCS
This is a 2004WRX wagon finished up recently. He came in for a clutch, but had the itch to do a bit more in celebration of making it over 100,000mi on the original factory clutch. He had saved up some money to do the clutch some time ago and decided to put that towards a basic "Stage2" set-up with the addition of a Invidia up-pipe wrapped in the awesome Heatshield Products lava wrap. This stuff is a non fiberglass based wrap which makes it so much nicer to handle versus the more hazardous fiberglass based exhaust wraps. Basic mods led to a nice jump in power for this customer, and he was thrilled with how well the newly surfaced flywheel and genuine Exedy OEM clutch kit felt. Very happy with the results, and he can now join in on the growing army of 240whp stock turbo wagons we've been doing lately, haha.
Final HP/TQ Graph: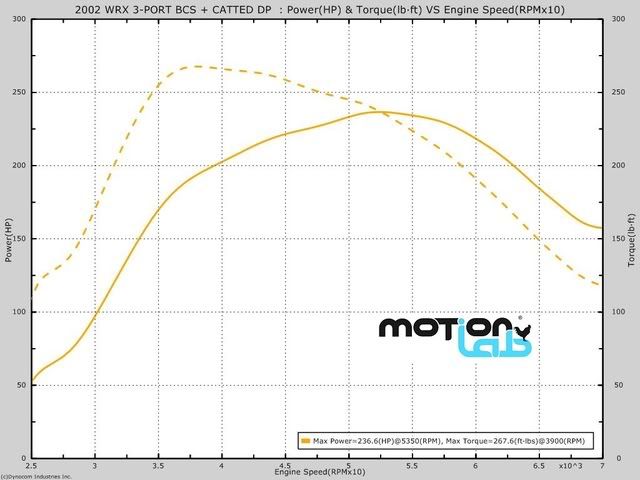 Follow whats going on at the shop on our Facebook page
Motion Lab Tuning - Automotive - Charlotte, NC | Facebook
Thanks for looking!
Alex Goodwin
[email protected]
MotionLabTuning.com - Engineering Performance