Shop: Motion Lab Tuning
Dyno Type: DynoCom FX5000-AWD
Temp: 45F
Boost: 20psi
Fuel: 93OCT unleaded
Target AFR: 11.2:1
SAE Corrections: Default Corrections
Peak HP at RPM: 311whp @ 5050 RPMs
Peak Torque at RPM: 355wtq @ 4300 RPMs
Transmission: STi 6speed
Gear: 4th
Engine Management: Opensource
Engine/Power Modifications:
Motion Lab Tuning Pro-Built engine

Stock STi rods w/ ARP rod bolts
Standard ACL bearings
Manley Performance 2618 Forged piston set

Motion Lab Tuning performance 3-angle valve job
APS FMIC
APS 65mm Intake
Invidia Downpipe
Invidia N1 street
This is 2004 STi we finished up not too long ago. The motor had some severe oil consumption. We decided to freshen up the motor. We based it around one of our ML500 spec motors, with a few additions. Utilizing the Manley performance pistons we bored it out to 99.75mm re-using his case. Since we were in there we also installed ARP rod bolts and honed the big end bore for proper clearance. Everything got put together using standard ACL bearings. A Motion Lab performance 3-angle valve job fully re-built the heads and increased flow at the same time. The block on this particular motor was actually warped. We ended up machining .018" off the surface! We needed to make up for all the material removed so we used some of the superb Cosworth headgaskets. Threw in an ARP headstud kit and re-assembled to Motion Lab Tuning pro-built engine specs. After the dyno tune I think the car came out great!
Final HP/TQ Graph: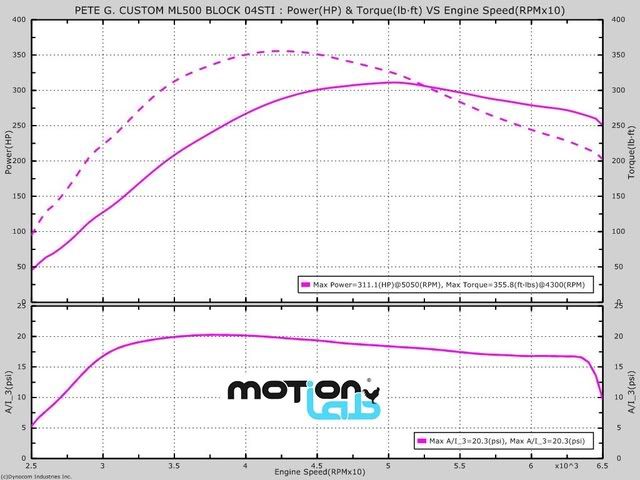 You can find all of our engine packages on our website
http://www.motionlabtuning.com/pro-built-engines/
. Also feel free to contact us by phone or email for any information regarding parts, pricing, tuning, or any of our available engine packages or custom spec engine builds.
Follow whats going on at the shop on our Facebook page
Motion Lab Tuning - Automotive - Charlotte, NC | Facebook
Thanks for looking!
Alex Goodwin
[email protected]
MotionLabTuning.com - Engineering Performance