Decided to sell my Forester XT and work on another build. Car runs and drives great, and is a blast to ride in. Very hard to find these in a manual these days, this is the cleanest one you will find.
Great daily driver, Stage 3 super sleeper!
There are two images with two different suspension setups, the real low image in the snow is on ISC coilovers, the higher one on KYB struts with Swift lowering springs.
You can choose what suspension you want, does not matter to me.
On ISC Coilovers: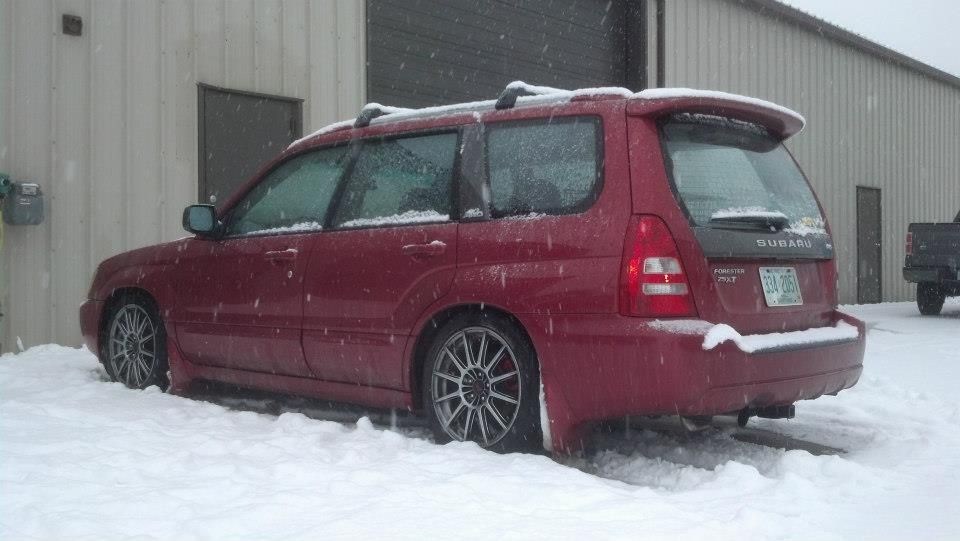 On KYB struts with Swift springs:
Blogs about this car:
http://ajwperformanceproductsblog.co...s-forester-xt/
http://ajwperformanceproductsblog.co...-04-fxt-build/
2004 Forester XT 5 Speed Manual- Rare
"Higher miles" but very clean- 171,000
Work done in the past 500 to 6,000 miles:
Clutch- 500.00 new
Full timing Belt Kit- 800.00 new
Water Pump
Brakes- 300.00 new
Mishimoto radiator- 2 months ago- 250.00 new
VF39- 1 month ago (STi turbo)
Tune- 1 month ago
ISC N1 Basic coilovers- 2 months ago- 1100.00 new
All fluids recently changed- Trans, Diff, Oil, and Coolant. 5w30 synthetic oil changed every 3500 miles
Other Modifications:
Also have a set of KYB Forester Struts on Swift lowering springs if you want to take the coilovers off
STi Intercooler
Turboback 3" stainless exhaust
Short throw shifter
Walbro fuel pump
ISC shift knob
Fuel pressure and boost gauges on Perrin steering column cluster
STi style hood scoop
Aftermarket rear sway bar
Aftermarket Endlinks
Catless Uppipe
Heated seats
Rear trunk lid- last one available in USA- RARE
Car does not need any work, the motor and transmission are still strong. The body is in good shape, there is no rust at all on this car. The rear bumper could use a re spray if you are picky, I never got around to it. Some normal highway chips on the hood but nothing really to make note of. Clean reliable and fast car, a true sleeper for sure!
NOTE* Wheels will not be included for this price. Other Forester XT wheels will come with it. Traditional alloy wheels in silver OEM Forester wheels.
7200.00 Firm
Clean Title in hand, no accidents
Want the nice Enkei Forester Sports STi wheels in the image? (on continental all seasons)- ADD 800.00
Contact us if you want a shipping quote!

Thanks!
Andrew