Event: road dyno pull
Location: Chicago IL
Ambient Temp: 55
Elevation: ~700
Weather: dry evening
Track and Conditions: ----
Tires: brand, model, size Goodyear Eagle GT 225/40/18
Car: 2002 WRX
Tuner: Unknown
Dyno Info: Virtual Dyno Dynojet setting
Transmission: Stock 5 spd
Gear: 3rd
Peak HP at RPM: 382 @6112rpm not SAE corrected
Peak Torque at RPM: 382 @4360 not SAE corrected
Baseline hp/tq for a stock on same dyno: ~230?
Target Boost: 19.5 psi
Target AFR: rich ~10.6, needs work
Fuel: 93 oct
Engine/Power Modifications:
Stock 2.5 block
Stock 2.0 heads with chambers matched
Slightly higher compression than stock STI
TurboXS big topmount
no-name TD05 18g/TD06H ported
1000cc Five-O EV14's
TGV deletes
aftermarket catless uppipe
TurboXS 3" exhaust(DP catted)
lightweight crank and alternator pulleys
Driveline Modifications:
ACT HD plate and disc
ACT Streetlight flywheel 13lbs
Group N engine mounts
Perrin 23mm rear swaybar with Vivid CNC endlinks
Stock struts /Cobb lowering springs
Other Modifications: ----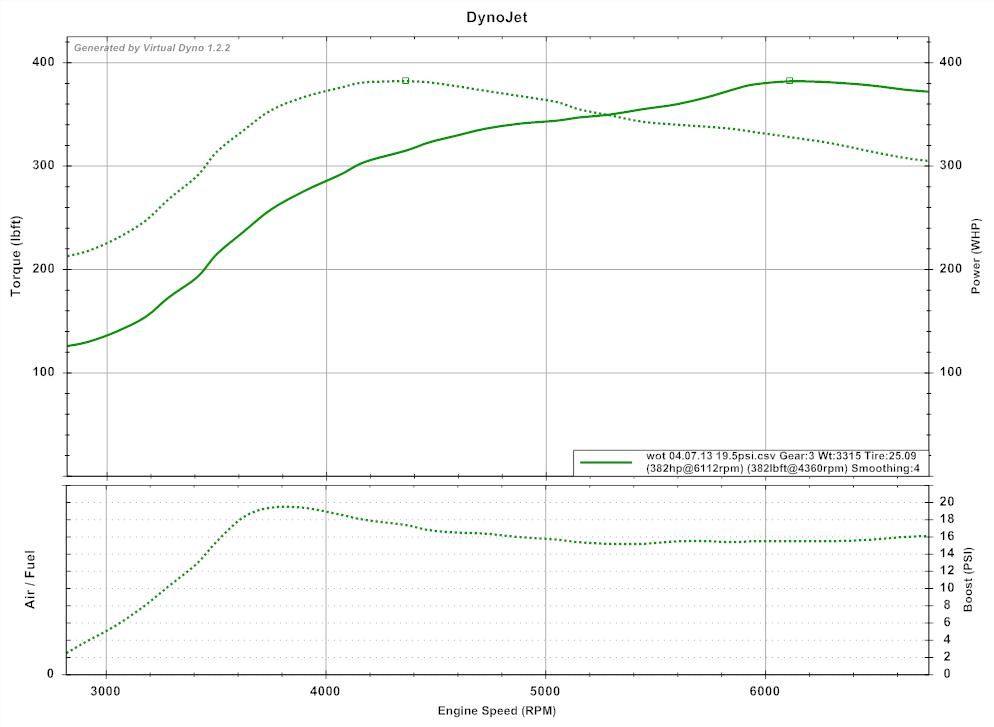 Bought the car with a spun bearing with the
turbo installed already and car tuned by unknown tuner.Tune looks very good with no knock and nice smooth
torque delivery so save the 5 spd trans. Timing to my knowledge is also pretty conservative.
TD05 18g compressor wheel with TD06H turbine wheel in 7cm ported hot side housing. Airboy is 352/346. Comments?