I'm making this thread in hopes of helping others avoid terrible products, or at least just find products that work. It'll be an ongoing log of different things I have tried since buying my car. It's a satin white pearl wrx with cloth seats for reference. Some things work better for different colors, and some things aren't compatible with leather (or cloth, whatever).
3m Scotchgard foaming fabric cleanser
http://www.amazon.com/3M-Scotchgard-Foaming-17-5-Ounce-1019R-AUTO/dp/B005F5D2CS
This stuff is awesome. I had stains on my seats from leaked protein shakes, exploded sodas, dirt, make up, and whatever else. Spray it on, wait a bit, wipe off with a mf towel, bam. Follow directions, obviously. Worked fine on my seats without color fading.
When it says to wipe off surrounding areas quickly, do it. I didn't wipe if off the window switch in the back and now it has spots on it I can't get off. Thankfully, that is the only area so I don't really care.
Adam's Quick Sealant
http://www.detailersdomain.com/Adams...nt-_p_638.html
I got mine in kit form from amazon, but they don't stock it any more for some reason. This stuff is great. The can lasts a long time, sealant quality is pretty good for a spray, and leaves a nice shine.
However, make sure you apply it outside/somewhere with excellent ventilation. Even then, holy ****, don't breathe it at all...I would recommend a mask.
Menzerna PowerLock
http://www.detailersdomain.com/Menze...-oz_p_323.html
This was one of the first products I bought for my car, and I love it. It lasts a long time on the paint and stands up to harsh weather very well. Easy application, but IIRC avoid black plastic. It's pretty funny to watch a spider walk across the fender then slip right off the edge after using this stuff.
303 Aerospace Protectant
http://www.amazon.com/303-Products-Aerospace-Protectant/dp/B004HHSGS0
$18 for 32 ounces and free shipping was a pretty decent deal here. This stuff is superior in my experience to the armor all offerings, and most of the meg's interior stuff. Less shiny and greasy looking, doesn't attract or hold dust, and has a multitude of uses. The dust thing was a big draw for me with all the pollen going around...it was driving me nuts to clean my car then have my dashboard covered in dust/pollen the next day. 303 AP has kept things much cleaner.
It is definitely more shiny than meg's quick interior detailer (which I love), but not that greased up look of armor all.
Stoner Trim Shine
http://www.amazon.com/Stoner-91036-Shine-Plastic-Coating/dp/B0002KKITG
Black plastic trim that gets that sickly gray look pisses me off. I got this for basically nothing included in a package deal, so I figured I would try it anyway. I didn't expect it to last at all seeing as how it is an aerosol spray, but it has far exceeded my expectations. Easy to apply, just spray it on. I avoid hitting the paint as I do not know what the reaction would be, but whatever overspray has occurred hasn't affected anything. Worked great (for a few weeks now) on a forester, even after a road trip and heavy rain. Does not look or work well on plastidip.
Do not recommend:
Turtle Wax Liquid
Lasts about as long as any regular spray wax (Lucas, Megs ultimate, etc), which alone makes it a no-go for me. Why bother when there are superior paste and liquid waxes, let alone sealants like PowerLock?
I got it for less than $5 (and an extra bottle or two), and consider that a loss more or less. Could still use it for cars that the owners don't really care either way.
Nufinish Cling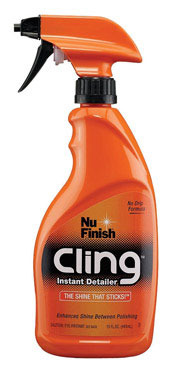 http://www.amazon.com/Nu-Finish-Cling-Spray-Car-Polish/dp/B002S3KOQM
Look at the reviews. I hate this stuff. There is no point to it, much like the rest of the nufinish line. I got it on clearance for less than $3, and the most I would use it for now is wheel duty.