Bought a Sparco Hub and Wheel for my car and long story short. When I went to install it everything was fine till I put the hub up to the steering column. I'll post pictures below. But there's a black plate that turns and has to rubber prongs sticking out towards the driver. Does this stay? Or does thus also have to be removed. The hub will neither fit around the rubberish prongs or will it allow the cords to fit through the back that are attached to this black spinning plate.
Any advice would be much appreciated or If there is a write of some sort that I didn't find, sharing it would be much appreciated. Thanks in advance guys!
Here's the "black plate" that spins with the stock wheel.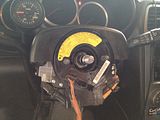 Back side of hub.