Being the tuning sub forum, I would expect you folks to know this better than anyone else (I usually post in the built engine sub forum).
Question:
Does anyone
know
the difference between these two kits? I'm not looking for conjecture. They both look to be identical minus the brass vs stainless steel. I did notice that the Stainless version says "Accuracy +/- 1%" whereas the Brass version says 3%. Is that enough to make a difference for purposes of tuning? I understand that Stainless may hold up better in a harsh environment. If they are essentially the same I would prefer to save $80 and go with the brass.
BTW - I read on
THIS THREAD
that
"If you look at the pressure to volt charts on AEM's site, there is a larger error deviation with the brass sensors than there are with the SS ones. Depending on your application, this can make a huge difference in getting accurate readings. Take that into account along with the heat the sensor will be seeing whererver it is located."
So, depending on my application, which would be a mildly built engine putting down about 350 whp at 22 psi, does the brass sensor kit have too large of an error deviation?
AEM 30-2131-50 3.5 Bar or 50PSIA Brass Sensor Kit
$62.59
http://www.amazon.com/dp/B002NT7HG6/ref=dra_a_cs_lb_hn_it_P1700_1000?tag=dradisplay-20
http://www.aemelectronics.com/3-5-ba...sensor-kit-662
Sensor Performance Specifications:
Accuracy: +/- 1% Full Scale over -40C to 105C includes Repeatability, Hysteresis and Linearity
Operating Temp: -40C to 105C / -40F to 221F
Burst Pressure: 500PSI
Response Time: < 1mS
Wetted Materials: 304L & 316L Stainless Steel
Vibration: 100 to 2000Hz, 20g Sinusoidal, 3 Axes
Weight: <85g
Supply Current: <6mA at 5 Vdc
Output: .5 to 4.5Vdc Linear
Transfer Function: PSI = (12.5*(Voltage))-20.95
Elec. Termination: Integral weatherproof connector, includes mating connector & pins(Supply Voltage 5Vdc +/- .5, Ground, Output)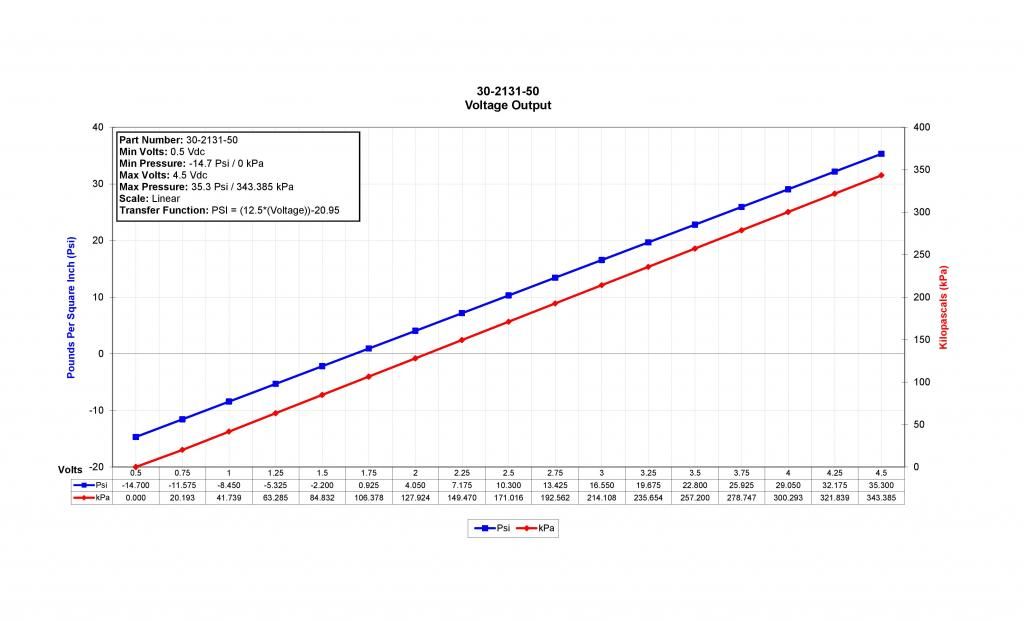 AEM 30-2130-50 50 PSIA or 3.5 Bar MAP Sensor Kit
$147.02
http://www.amazon.com/dp/B000CFUN3C/ref=dra_a_cs_lb_hn_it_P1700_1000?tag=dradisplay-20
http://www.aemelectronics.com/3-5-ba...sensor-kit-653
Sensor Performance Specifications:
Accuracy: +/- 3% Full Scale over -40C to 105C includes Repeatability, Hysteresis and Linearity
Operating Temp: -20C to 105C / -4F to 221F
Burst Pressure: 100PSI
Response Time: < 1mS
Wetted Materials: 304L & 316L Stainless Steel
Vibration: 100 to 2000Hz, 20g Sinusoidal, 3 Axes
Weight: <85g
Supply Current: <6mA at 5 Vdc
Output: .5 to 4.5Vdc Linear
Transfer Function: PSI = (12.5*(Voltage))-20.95
Elec. Termination: Integral weatherproof connector, includes mating connector & pins(Supply Voltage 5Vdc +/- .5, Ground, Output)