WARNING: REDNECK DIY/WALL OF TEXT. PROCEED AT YOUR OWN WILL
Howdy Nasioc. How's it going?
I really hope this serves to help some of you guys out there. As you guys might have noticed, a few Subarus sometimes decide to call it quits when it comes to their steering system. I've noticed a bunch of 08+ WRX/STi 's with the same problems that I encountered. Usually it's either a steering rack leaking from its pinion seal or a shot pump. I had both happen at the same time
Now usually those would be replaced under warranty or you'll be forking over a nice amount of cash for the kind folk at the dealership to replace them.
Let's get to my case now. My wallet is always off on vacation and whenever she's back my project car (95 Mustang Cobra) decides to kidnap her. So I'm pretty much broke most of the time
. Now my 09 WRX. Besides the Kartboy shifter and bushings, she's pretty much stock. I don't drive like a maniac and only let my foot drop once in a while. One day, both the steering pump and steering rack decide to give me the bird. And since am pretty much broke most of the time, I decide to fix her as cheaply as I can.
So I decided to de-power the steering rack. AKA converting a power steering rack into a manual rack. You can always remove the pump's belt or loop the lines. But to truly de-power the rack, you'd need to remove the inner seals on the main shaft. meaning you'd have to extract the rack from the patient and open er' up. I did some reading but couldn't find anything on Nasioc so I looked elsewhere and found some guides on flyin miata and the rx7 boards and club nico(I think that's what they call it).
Today we will be opening an 09 WRX steering rack to get the inner seal. cut or grind that out and reassemble everything back together.
Tools:
-A crap load of wrenches
-A nice ratchet
-Pipe wrench
-Grease (You'll be stuffing this babe with it)
-Bench vice grip (You can actually do the whole thing without one)
-Some kind of machine with a grinding wheel. (No fricking chainsaws
)
-Gorilla strength
-HAMMER
-Rebuild kit
Skill level: Can you turn a wrench?
Okay. Let's get on with this.
1-Unbolt the bad boy from the car. You only have two lines going to the rack. one goes to the reservoir. And the other goes to the pump. Just spin em open. Becareful and don't be an idiot like me. I opened up everything without having a hand on the rack so it fell on my face (Darwin award here we come)
2-Take that thing to the kitchen so everyone can get upset over how you're dripping oil on the floor. I opted to keep the outer tie rods on because I was felt no need to remove them.
You leaky son of a gun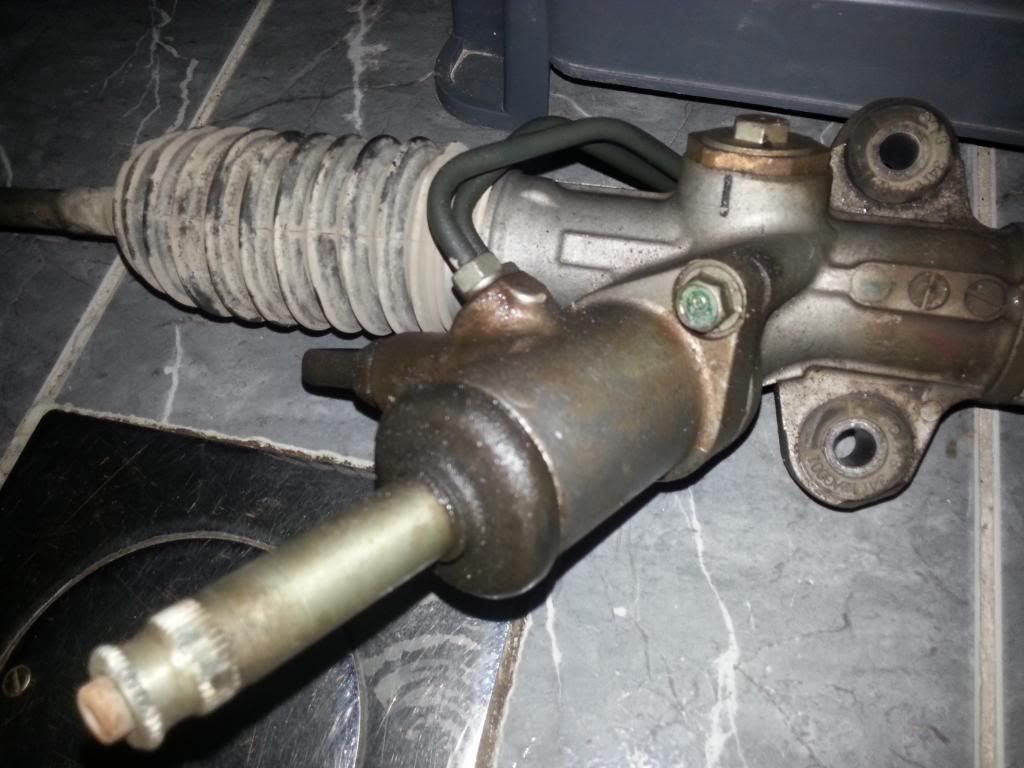 3-Okay let's start taking this thing apart. First start be removing the lines (No need for a pic)
4-Take off the bellow boots so we can unscrew the inner tie rods. Notice that the boots have a special kind of clamp on. The kind that makes you want to cuss everything around you. You have to damage the clamp in order to get it off. So clip it off.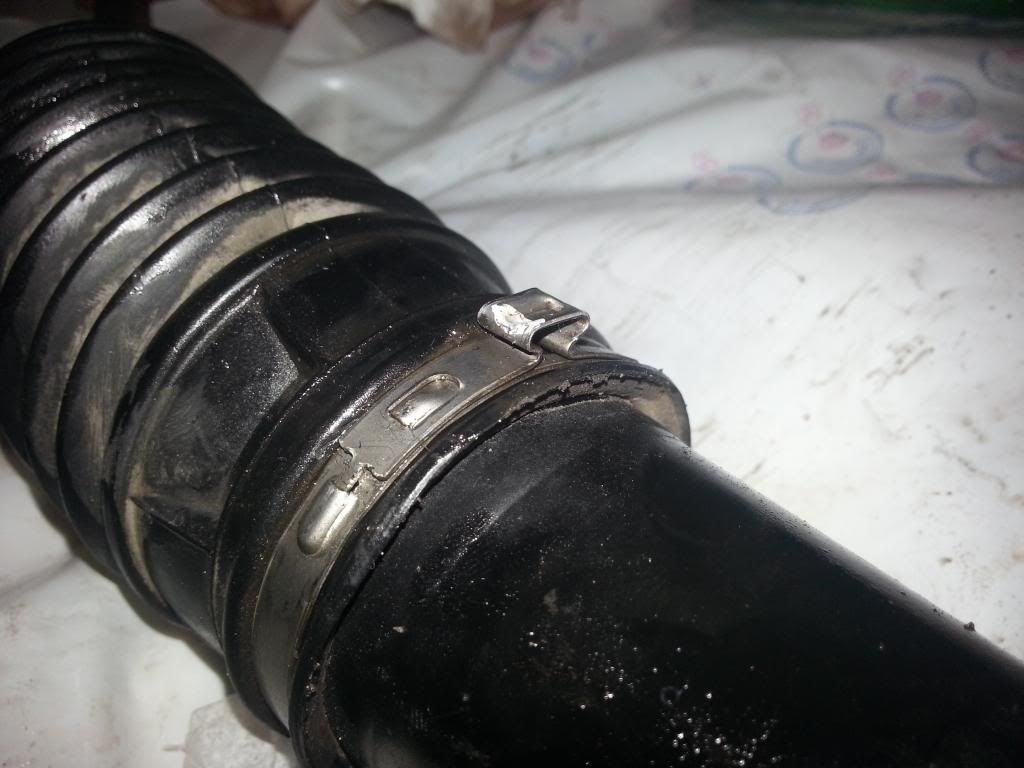 After you clip the clamp. slip the boot to the outside to reveal the inner tie rod.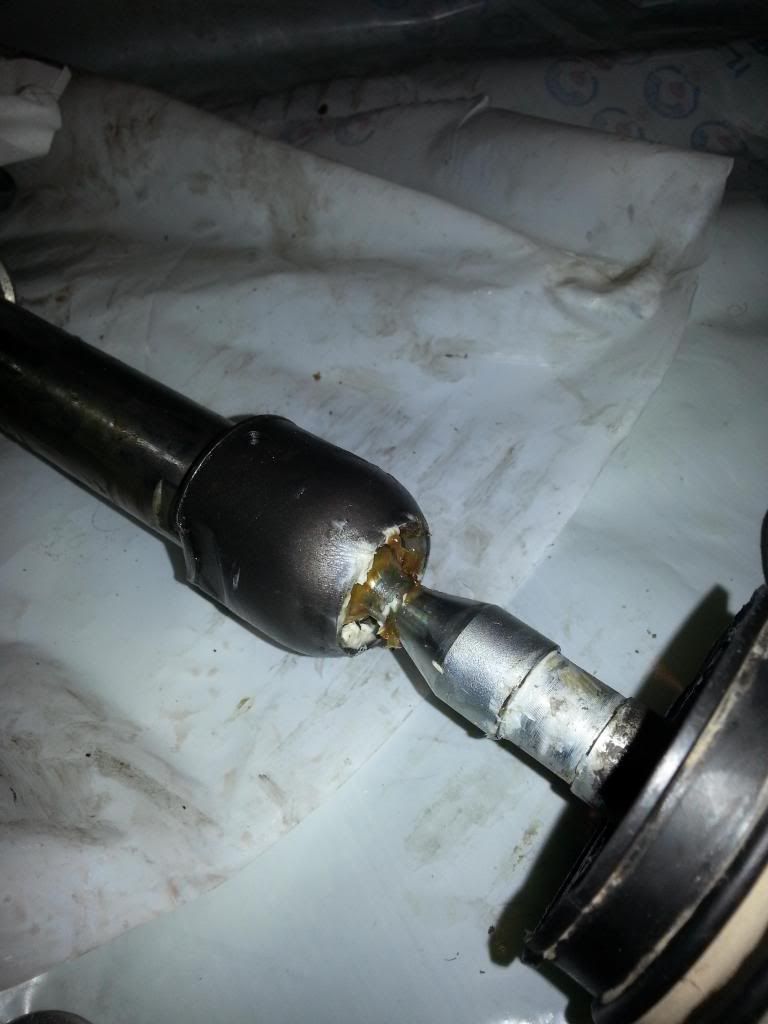 You have to remove this. Lemme get a close up.