To answer my own question, Subaru only made two versions of the GD chassis Aluminum control arm.
V7 V8 V9 JDM WRX/STI (Non Spec-C) / MY06 WRX / MY07 USDM STI [Non-Caster Adding]
V8 V9 Spec-C STI / MY04 MY05 MY06 USDM STI [Caster Adding]
The V7 Spec-C still uses the non-caster adding arm, but with offset bushings/mounts as seen at the bottom of this post.
Easy differences can been seen below:
Quote:
Originally Posted by
Patrick Olsen
To put what psyber_0ptix said into pictures: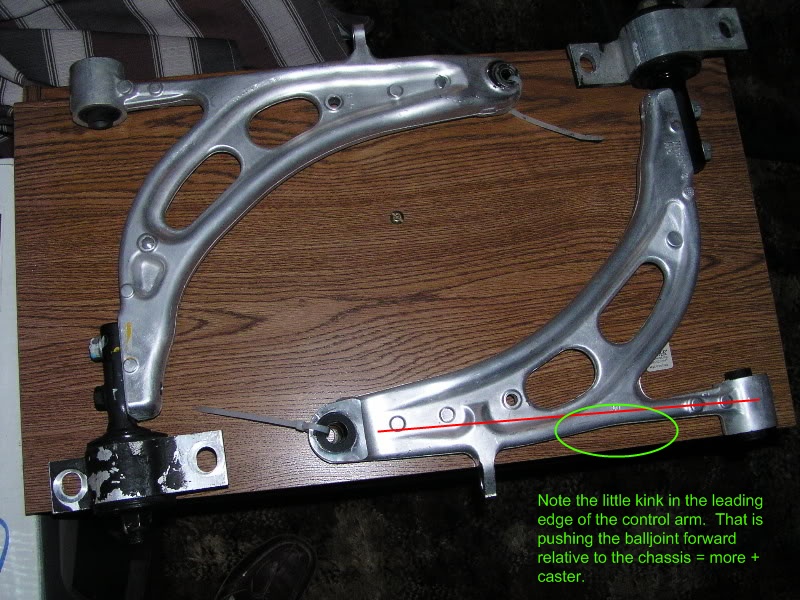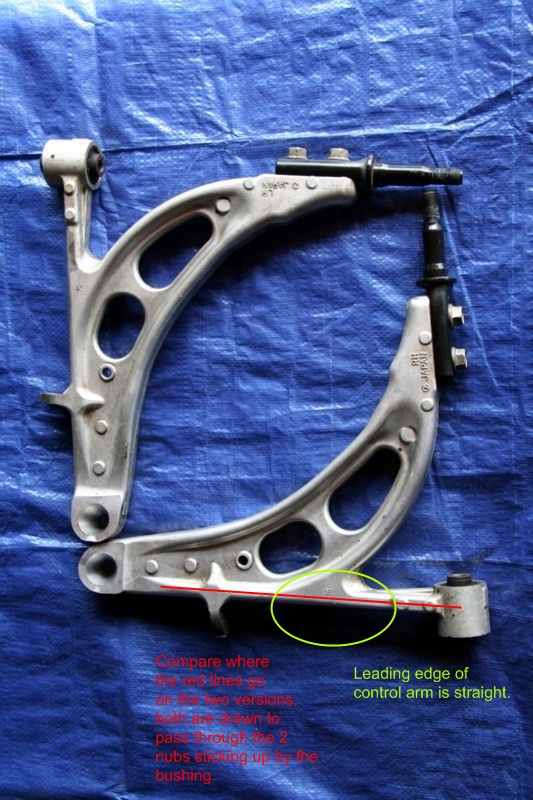 I wasn't aware of the swaybar endlink tab difference that BigSky pointed out, I have always looked at the "kink" in the leading edge of the control arm. Makes it easy to see how/why the arms provide extra positive caster.
Looks like my red text is hard to read against the blue tarp. It says
"Compare where the red lines go on the two versions, both are drawn to pass through the two nubs sticking up by the bushing."
Pat Olsen
Quote:
Originally Posted by
Bikelok
Here's a couple of ways to tell if they are caster adding arms.
Square end
Bend in arm
The non-caster adding arms have a pointed end and the leading edge is straight, not bent.
Quote:
Originally Posted by
Slowsoul
So, what you are saying is that a GG would run into a similar problem that I am having...I imagine that washers will work in my case as well...
Not for sale yet.
These arms came off of an S202, which might not mean much, but it DOES mean that they were on a Bugeye (GD) chassis...now, wether or not they are actually S202 control arms has yet to be determined, but they are not like any impreza control arm that I have seen yet...but then I haven't seen that many Impreza control arms either.
Take a look at these pics and tell me what you think?
The main part of the control arms is identical to other aluminum control arms. The difference that I see is the rear bushing, and the front bushing. The rear bushing looks much larger and about an inch longer than normal, and the front bushing looks like it is offset by about as much.