I recently stopped sniffing glue and decided to focus on small improvements in my aging car. As much as I love her, my 2004 WRX wagon is getting long in the tooth, with her flipping 200,000 miles this upcoming week. So....what had happened was...
I was visiting Andrewtech Automotive a month ago and stumbled upon some 2005 Saabaru wagon rear suspension in their bone pile. This got me thinking that my stock bushings were probably janky. Andrew was kind enough to allow me to jack the rear lateral links and trailing arms. Since I was already in a shop, I decided to press the bushings out there, which I did with Andrew's assistance. I took them home, cleaned and rattle canned them and tried to scam some bushings for Free 99 from Clint at Turn in Concepts. He told me to "suck it Trebeck" and I started saving my pennies. Several weeks later, I received the black race lateral link and front and rear trailing arm bushings via FedEx. This happened to coincide with my next visit to Andrewtech which was apropos.
That was this weekend and this is not so much an install thread as it is a slight review and supplement to these gems:
http://forums.nasioc.com/forums/show....php?t=2409546
http://forums.nasioc.com/forums/show....php?t=2409554
http://forums.nasioc.com/forums/show....php?t=2347725
My install advice/deviation from above are as follows.
1. Don't be a hero and buy new lateral link/rear hub bolts (20504AA001). (2)
2. Don't be a hero and buy new lateral link/rear hub washers (900335056). (2)
Reason for 1/2 is the rear most bushing WILL be frozen to the bolt and its a whore to get off which frees both the washer and the whole bolt for reuse. Unless you have a grinder, a steady hand, some skill with grinding, a vise, a chisel, and mechanical skill in general....the odds of you buggering the bolt/washer up are high and even if not, its a whore to do. Depending on your dealer, this expensive hardware should be under $40 all in.
3. This job requires work on big and tight suspension bolts. These are a whore to loosen. If you have experience with hard to remove suspension bolts, sally forth. If you don't have experience, you better eat your damn Wheaties and have a 6 foot pipe to slip over your breaker bar.
4. This job requires removal of the OEM bushings which can be fun or a whore depending on your skill/experience. Luckily for me it was a snap as Andrew's shop has a bitchin' press and an infinity of sockets and round stock for pressing.
The rear trailing arm bushing is cake using a Pitman arm puller. I got this jank at Harbor Freight for $15.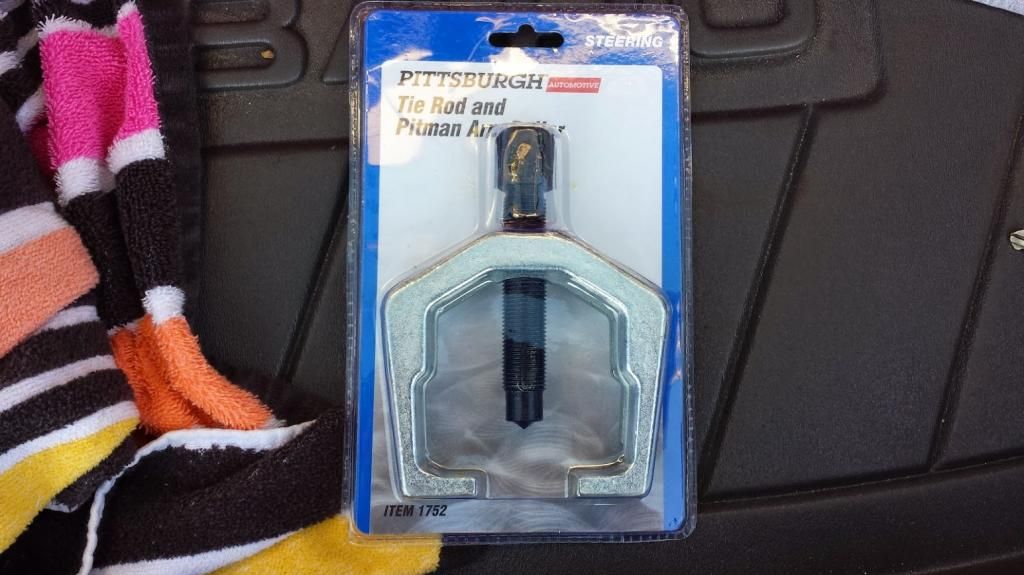 Dem bolts. Dem washers not pictured. Yes...my local parts guy usually orders stuff under Big Ron!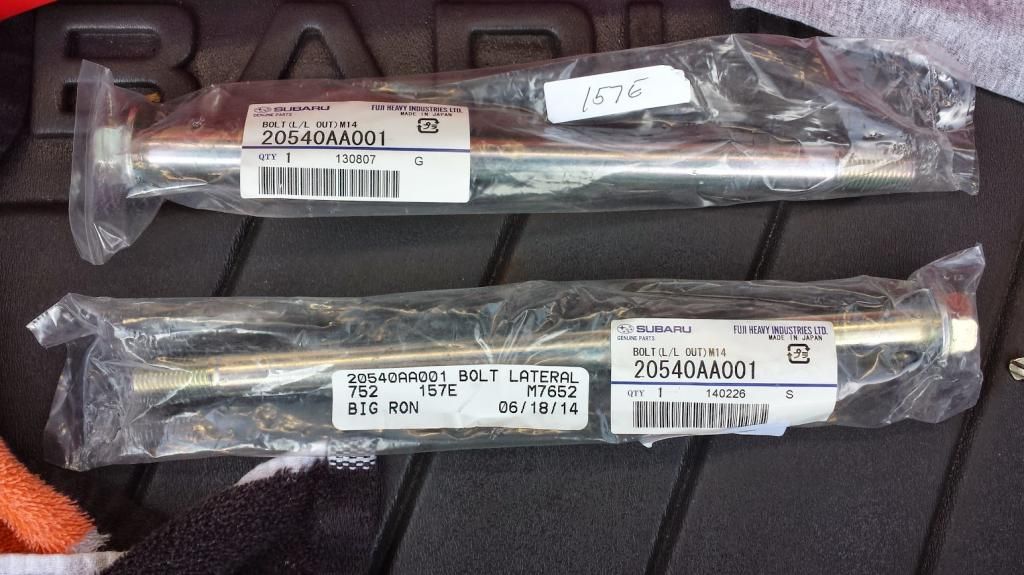 Washed, etched/primed, painted and cleared stuffs.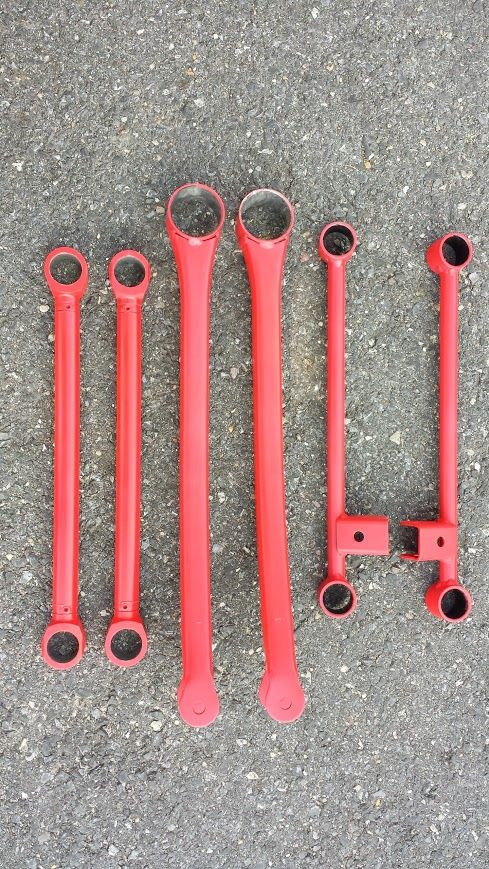 Suprize! Silicone is the lube to use and I anti-seized the inside of the honking metal sleeves.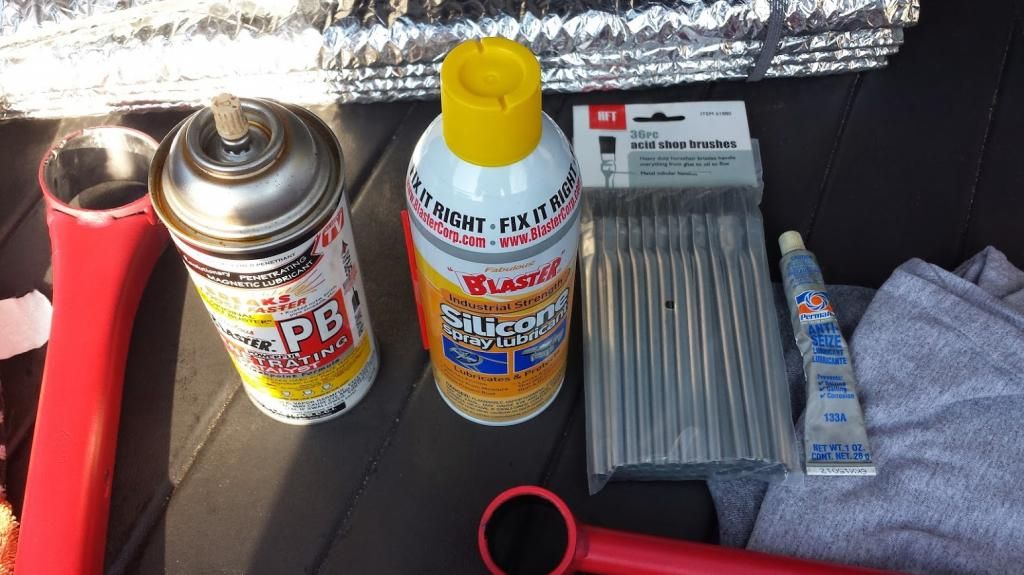 Parts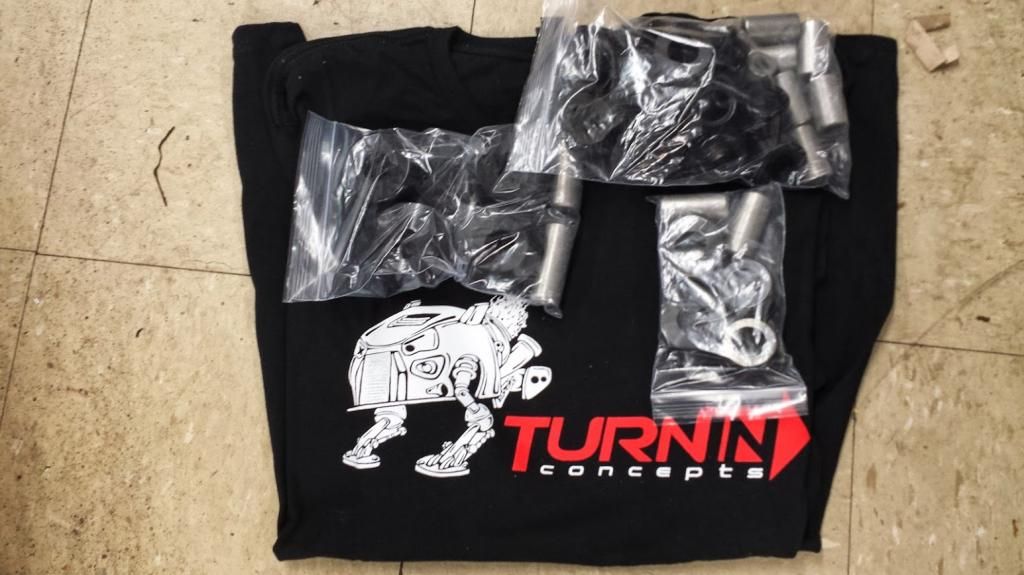 Install shot, blurry due to heavy drinking.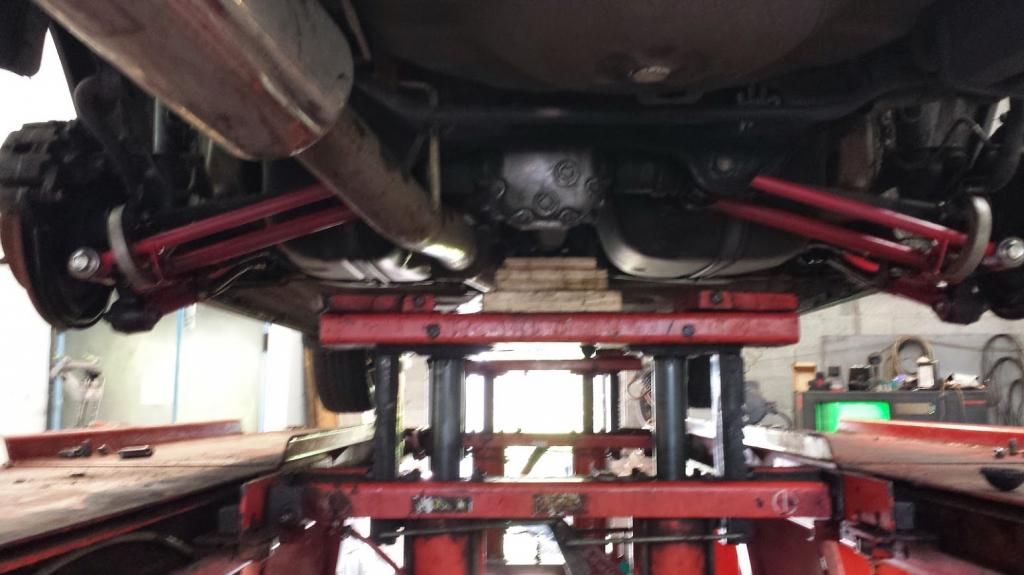 Alignment. As you might guess, the new bushings make your rear end all cattywhampus.
After the install I drove 4 hours back home with most of it being highway miles. The rear end is
SUPER
firm now. As in I'll likely dial DOWN the Koni shocks to a softer setting. For the first 20ish miles the whole rear was SUPER creaky, then once on the highway she's quiet as a mouse. Upon arrival to Virginia Beach, its only creaky on slow speed turns but its neither super loud or super annoying so I'm happy with choosing the black/race version rather than the gray/comfort version. I now have 100% all aftermarket bushings in the rear end and can honestly say that these have done more for the suspension/handling than all the other bushings combined. They make a REAL and APPARENT difference.
***DISCLAIMER*** I swapped these out due to concern for the age of OEM units and not for racing/being cool. My idea of racing is hauling fill dirt from Home Depot. All of the OEM bushings were fine in appearance (a few got janktified due to unkind pressing methods) but had the same firmness as the bottom of a tennis shoe. The black/race TiC replacements have the same firmness as a bowling ball. Your mileage may vary, void in Canada, don't run with scissors.
Props to
www.turninconcepts.com
for 10% senior citizen discount (Parts used run $320 all told for what I used)
www.andrewtechautomotive.com
for parts support/install and alignment