Quote:
Originally Posted by
Norskie
I've also heard (and have friends experience) Subaru's reluctance to do anything until it burns more than 1 qt/1k miles. Which TSB are you referring to?
Subaru replaced the FB25 shortblock in my 2011 Forester; so, I have directly experienced the whole process.
First, it starts with the tech inspecting the engine for any external oil leaks (oil drain bolt, cylinder head covers, ....).
Then, the PCV is checked (a bad or sticking PCV causes oil consumption).
If it all checks out, the oil consumption test procedure starts; there's a specific form for that test; here is a direct quote:
Quote:
[...]
Consumption rate determined: ________________________ per ________________________ miles
[Oil Consumed every 1200 Miles = (OIL ADDED ÷ MILES DRIVEN) x 1200]
If there is oil consumption of 1/3 of a quart (10.7 oz in 1200 miles) or more observed and calculated as part of this test, proceed with the repairs listed in the applicable bulletin. If no applicable bulletin then proceed with repair as indicated by your diagnosis or contact SOA Techline** for assistance. If unsure about the dipstick indication of 1/3 of a quart, add 1/3 of a quart of oil, (allow at least 5 minutes) then re-check to see if the oil level is full or over-full. If the level is at or below the FULL Mark, perform the applicable repair. If the level is above the FULL Mark, no repair is necessary as the consumption rate during this period is less than 1/3 of a quart (10.7 oz). This rate of oil consumption is not considered unusual.
[...]
Link to the PDF:
https://content.subarunet.com/snet/_...ption_test.pdf
Pic of the PDF: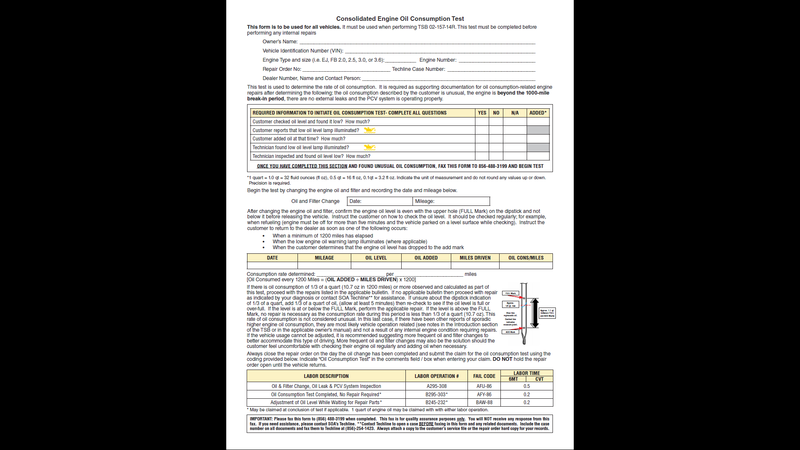 The latest TSB, TSB 02-157-14R is out there as well. It should pop out in a Google search.