I've gotten some great compliments on my painted wheels, especially since I have a slight "polished lip" effect. I wanted to post some detailed instructions with a couple little tricks for the best/easiest/nicest results if anyone wants to do this. Here goes:
First, maybe not so obvious, you have to take the wheels off the car. I suppose you don't HAVE to, but, c'mon, really......
. If you have the means to dismount the tires, all the better, but it's not a big deal. Also, don't bother trying to paint lugnuts - it just won't hold up under a lug wrench; buy new ones
. Now the prep work.....
Clean the heck out of the rims. Don't worry about the inside of the wheel itself - that's never really visible. Get some soapy water, a small nylon (or similar) brush, a degreaser, etc.... and go to work. As a finisher, have a thin cloth around your fingers to get in all the valleys and grooves to get all the brake dust and grime out. This is the only real physical part of the job, so don't spare any effort. When you're done, rinse the wheel very well and use another thin dry cloth to make sure you've dried every little area. Mask off the rubber now if the tires are still on.
Now scuff 'em up. Use a red scuff pad (don't use sandpaper, it's too harsh for what you want to do here). Don't be shy with it - it's so fine it really can't do damage but you want every last bit of factory "gloss" off. Get in every crevice. The rim should look pretty "beat up" when you're done. After this step, give the rim a wipe down with a damp rag or, better, a tack cloth.
You may find that your rim looked so good just all cleaned up that you want to skip the paint. Not a bad option, but do yourself a favor: still do the scuffing step and apply a clear coat - the clear coat will help that brake dust from sticking, making them easier to clean in the future (and you need the scuffing so the clear coat adheres).
OK, now, polished lip or not? Your call, but if you're going a dark color, I think the lip is a great "set-off" between the tire and wheel. How much to mask off is also an option. If you look at the lower portion of this pic, you can see what I masked off (probably the thinnest of your options):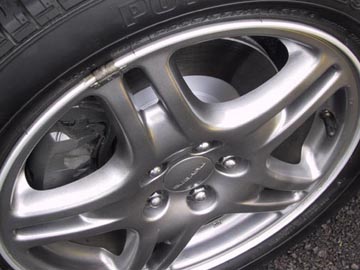 Another trick I didn't use is to remove your wheel weights and paint them separately (or you can leave them unpainted, I guess). If your tires are still on, note exactly where they go. If you took the tires off, they'll just get put back in the right place when you rebalance. To mask off the lip, use a narrow tape (1/2" or so), as it will be easier to curve it where you need it. Press well to make sure no paint can bleed under.
For the paint, I used
these products.
My color is "graphite." Their colors are limited but the quality is good. You can research elsewhere what other paints/colors are options. When you apply, I can't emphasize enough, use THIN, EVEN coats. Keep the can moving slowly but steadily and do NOT expect to completely cover each area you pass over. Do not try to spot fill an area (just holding the can over one spot and spritzing). The subtle hills, grooves and valleys of the stock rim encourage puddles and/or drips. It will take 2-3 coats before the wheel looks completely covered - that's good! Also, I encourage finding a "pattern" for putting your coats on. When the paint is first going on, it's easy to tell where you haven't hit yet. Once you get coverage, you may wonder "did I already hit that spoke yet?" and be tempted to start filling in. Again, that's a recipe for drips. Mine went like this: circle around the lip, 3 strokes around triangular areas, two strokes for each pair of spokes, two strokes for between each pair of spokes, finally about 4-5 strokes to cover the center.
You only have to wait about 10-15 minutes between coats to allow it to get tacky, then apply the next coat. 2 cans of color should get you about 6 coats per wheel - shoot for even more coats, it only means you're going nice and thin.
VERY IMPORTANT PART: if you masked off for a lip, when you are completely satisfied with the color coverage, remove the masking tape from the lip while the paint is wet. This is why you taped the rubber off first, so you can remove this layer of tape but leave the rubber masked. If the paint dries up, you will need to score the tape off or it will pull up paint. Doing it while the paint is tacky will help prevent that, though it still may be worth your trouble to have a utility knife on hand to assist. The reason you remove the lip tape before the clear coat is that applying the clear coat over the transition area where the color meets your "polished lip" will help prevent the edges of the lip from peeling up. I didn't come up with this when I did mine and had to do it later (mine still looks good but it could look even better had I done this). Once the tape is off, go take a break. Let the color set up as long as you can stand, overnight maybe. It needs to be cured well for the clear coat to work best.
Applying clear coat demands all the same rules as color: thin, even, don't worry about coverage, use a pattern. Again, 2 cans should get you 6 coats or so per wheel.
The longer you can let the clear set up the better as well. A good 12 hours or overnight if you can. While you're waiting, I found that this is the greatest time to apply some tire black to your rubber. Because the tire is flat, it doesn't drip off. I squirt a bunch on and use my hand to get it in all the little bumps, letters, and whatnot. Let it sit for several hours and it absorbs into the rubber nicely, then wipe off. If you've really got a bunch of time on your hands, you can use this opportunity to paint your rotors and calipers, too. I, as you can see, have much time on my hands.....(not)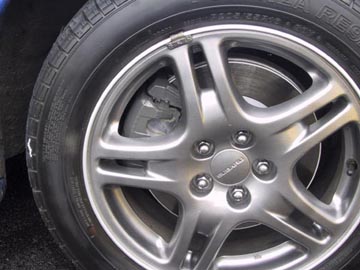 I hope this helps daily-driver people save a ton of money and get some nice looking wheels!
Tighe