Quote:
Originally Posted by buzz313th
Can anyone please confirm these conclusions.

1. When fuel learning and Fuel Correction is positive, the ECU is adding Fuel to the mixture. And when negative it is subtracting fuel from the mixture.

Correct. Positive adding fuel, negative removing fuel.
Quote:

2. Resetting the ecu with the AP clears the Fuel Learning Tables.

If it is doing a full reset like you can with the EcuTek deltadash then yes.
Quote:

3. The switchover point from CL to OL is indicated by both Fuel Learning and Fuel Correction going to zero. Thus, when in OL the ecu is not making any fuel adjustments based upon what it has learned in Closed Loop.

After a quick chat with my EcuTek expert... Edited my post..
On the WRX when the ECU goes into open loop fueling short term correction goes to zero but long term is locked at a learnt fuel value.
See image from delta dash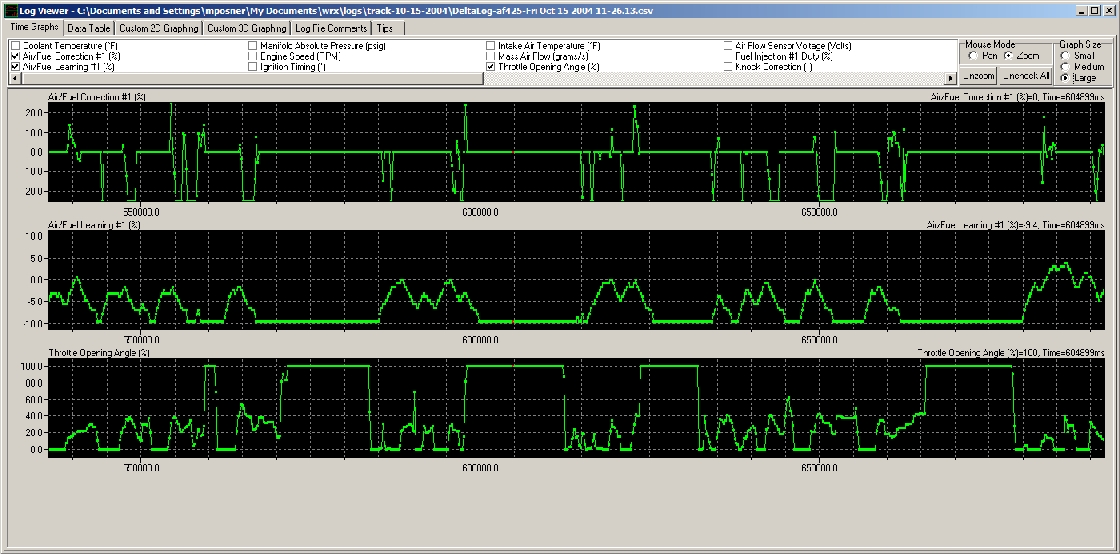 This was from my WRX 03 wagon at the track. You can see that each time the ECU goes into open loop the ST goes to 0 but the LT learning stays negative in my case.
This action was one of the drivers behind TurboXS bringing out Open Loop Fueling. This fueling offset will change your WOT tune over time. The UTEC OLF controls all the fueling so the LT trim does not effect the WOT tune.
Quote:

4. My Car is running Fuel Learning values of anywhere from 0 to 8, so an average would be 4, does that mean that I need to calibrate the Maf so that Fuel Learning is as close to 0 as possible. And if I did that, then I could count on Fuel Ratios to be actual when in open loop.
You will never get ST to stick at 0 but if you can get LT between +-7 you are doing pretty good.
Quote:

5. So if my fuel learning is positive (adding fuel), then it is correct to assume that since my ecu is adding fuel to get to the targets, that the maf is sensing less air than is actually flowing into the engine......then to correctly calibrate the MAF, I need to increase the values of air to voltage to let the ecu know that there is actually a larger volume of air flowing at a given voltage than before. Which then would allow the ecu to inject a bit more fuel for a correct mixture. And then once the ECU no longer needs to make as much fuel Learning adjustments, then I can count on OL fueling to be "more correct".

100% correct. Let us all know how you get on doing this.