So I started my car up today and there was a horrid noise from underhood. I pop it real quick and take a look... The crankshaft pulley bolt (the big 22mm one holding the pully onto the end of the crank) is loose, the pulley wobbling, and the accessory belt (power steering and alternator) is off.
The car has 126,869mi and this is the second time this has happened. The first time (121,702mi), everything came out okay, I put everything back together, torqued the bolt on and everything, and it was fine. This time, the pulley wouldn't go back on quite right.
After further investigation, it was obvious that the key on the crank has melted out of shape (pictures accompany description):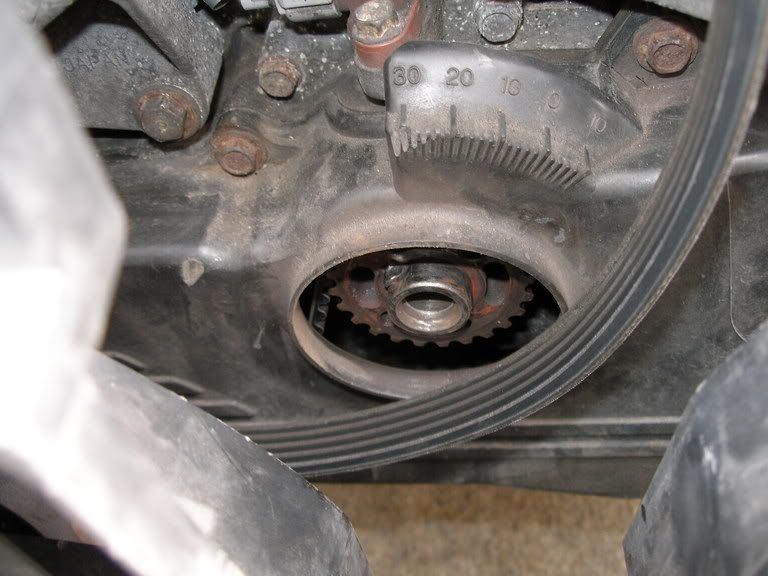 btw, the key is supposed to have 90-degree angles, not rolly-polly edges...
So, I called up the local Subie dealership (Lithia Subaru, Oregon City, OR) and they said there are two possible things they can do but both depend on how bad it is:
1. Re-work the crank and the key (~$550)
2. The car might need a new motor (~$3000-4000)
Can any of you tell me if the key is too mis-shaped to be fixed??
I want to get an opinion before I have it towed into the dealership because... If it needs a new engine, I don't know what to do. As much as I want to drop in a WRX motor I do not have the extra money for that... So if it needs a new engine, it's gotta go.
So what do you guys have to say? What should I do??
Thanks
-Ben