For sale legacy GT 96, I have quite of few things done to it, but the motor is N/A. 170k on it, I bought the car with 141k on it and i only drove it one winter that i have owned the car, I have owned it for about three years now. Its green, the paint is in really good condition(shiny) I have had no problems at all with this car, but i might be buying my friends car from him which is a impreza, I thought i would see if could sell it to some subaru ethusiets. I am asking $6,000 I dont have updated photos of the car with everything on it like front bumper and headlights,etc. Will get some photos this weekend!!
Interior:
-2.5 RS seats front only
-White face gauges
-Pioneer deck and stock radio with it
-all season floor mats
-Wood grain around radio
-Tinted windows 50% front 35% back
-interior clean
- 6 1/2inch 3 way Lighting audio door speakers(front)
- OEM tweeters
Exterior:
-JDM Tail lights
-JDM side markers
-97-99 hood w/ hoodscoop
-97-99 front bumper
-98-99 healights
-97-99 Foglamps(brand new)
-97-99 Front grill with mesh behind it
-Stock wheels painted gold With brand new tires on them Cooper corbra's
-Eibach lowering springs(coilover)
-I have bug deflector if wanted as well
-Under body lights (LED) Green, bright!!
-OBX Muffler
Engine:
-Water pump, timing belt, head gasket was replaced at 142k
-Battery is only about 1yr old or so
-Short ram intake, i have stock airbox with K&N
If you would like to know more anything that i missed, email me at
[email protected]
or call my cell (218) 234-1518 here are some photos but i will get more up this weekend!! Thanks Photos below
josh
Seats:
Muffler: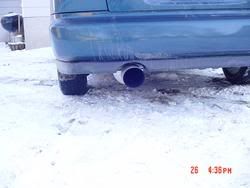 Paint: