Hey guys.
I will be receiving a new Eclipse CD8053 head unit for Christmas, and therefore have no need for my current unit, an
Alpine CDA-7940
.
I have owned this unit since 1999, where it was first installed in a 1994 Acura Integra, and then in my RS in summer 2000. It is a
*passive*
unit, with no internal amplifier, so an external amp. is required.
I unfortunately have no great pics currently. Here's the only one I could find, which admittedly is awful: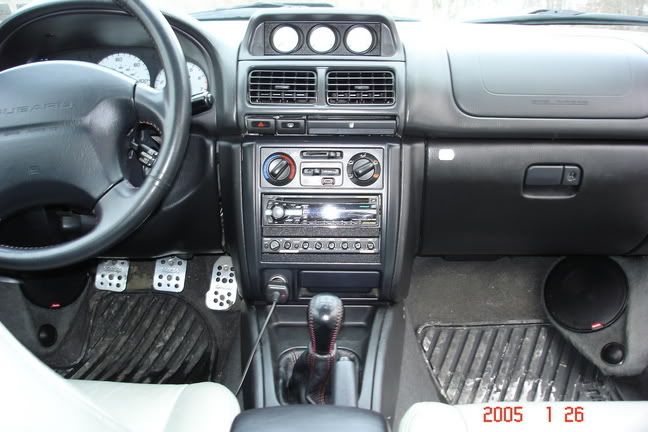 I can take another couple/few shots. There are lots of reviews and opinions of the unit on the web if you plug the name into Google. This was one of Alpine's top-end decks in the late 1990s.
The deck does NOT play CD-Rs very well, so be aware. It does have changer ability, though I've never used it. I do have the original detachable faceplate case, as well as the Case Logic soft one I've been using (which I even treat with Vinylex so it doesn't crack
). I will sell this unit complete with the wiring harness, which of course fits my '00 Impreza RS and probably most modern Subarus as well (not sure).
I'm not really sure what to sell this deck for, but a couple of individuals in the Car Stereo forum suggested that $150 would be a fair price. It is in very good condition, with only some light surface scratching, and no degradation of visual quality or LED brightness. All functions work. This was a $450+ deck brand new, I paid about half that as someone had purchased it, disliked the LED colors, and returned it to the store in short order. Which was fine with me.
Considering best offers. This will NOT ship out until January, when I return from holiday visits with family, and of course install the Eclipse. Thanks!!!
=S2=