Thats right, Concept G Blue turboback exhaust now available, limited numbers so its first come first serve. We will have more comming from Japan, so get these while you can!!
CONCEPT G BLUE TURBO SYSTEM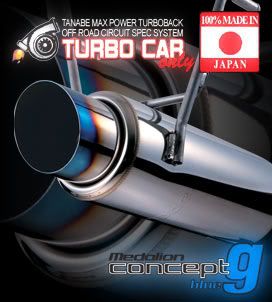 Quote:
We took turbocharged car exhaust tuning one step further in the development of the complete turbo back exhaust, CONCEPT G BLUE

This complete system includes a full SUS304 stainless downpipe and cat delete pipe that have thicker construction to withstand the heat of extreme exhaust gas temperatures. The catback portion of this system features lightweight SUS304 piping with a specialized full Inconel tip.

This system maximizes flow efficiency for the largest power gains and will greatly benefit vehicles running higher amounts of boost. This system is capable of handling the flow needs of extremely modified vehicles.

Tailored for turbo car driver who enjoys boost.
SPECS
-Catless bellmouth 80mm downpipe (offroad use only
)
-80mm Stainless construction main pipe
-80mm Stainless construction rear section
-Stainless polished canister w/ 100mm Inconel blue tip
-Silencer included
-Gaskets/Hardware included
-100% Bolt on, no modifications needed
-Official pics pending
SOUNDCLIPS
OUTSIDE CAR
INSIDE CAR
There is again a small amount available, so once they are gone, they are gone until the next batch!! First come first serve, this will be closed once they are gone.
PRICING IS $755 SHIPPED IN USA
Need Ultra Medallion? Sustec SEVEN/TEAS? GF210? NF210? DF210? Contact us
Chris R
Sales/Operations Manager
CVRMotorsports.com
[email protected]
AIM:ChrisAtCVR