I bought this
liquid filled tire pressure gauge
from Pegasus in early March but ended up not wanting it. It's
extremely
accurate, but a little "slow" getting to the final reading because of the liquid. I have a virtually identical one in non-liquid filled and I'm just going to keep using that.
I paid $59.99 + shipping. Will sell for $50 (you pick up, or I'll deliver at the Firebird 4/15 autox test day). It is in as-new condition. This is a pro-racing quality gauge. If you want it shipped anywhere in continental U.S., add $10.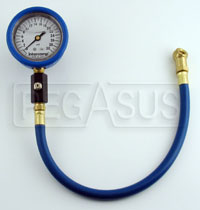 Intercomp 2.5" Liquid Filled Tire Pressure Gauge: 0-60 psi
The most durable and shock resistant in the industry. Intercomp's patented internal mechanism has only four moving parts (compare to 14 or more in other gauges). Fewer moving parts means greater reliability. Thumb-operated bleeder valve on the gauge head for quick adjustments. Swivel nozzle and 17" Goodyear hose for easy access at any angle.