Due to financial reasons, I have to sell these unfortunately.
I bought this Autometer gauge pod at a local store, but decided I would go with the carbon fiber pod instead. So thinking I could return the Autometer pod, I went ahead and ordered this carbon fiber pod. Well it turns out, I'm now stuck with 2 pods!
On with the ad..
Autometer 52mm gauge pod that replaces the factory clock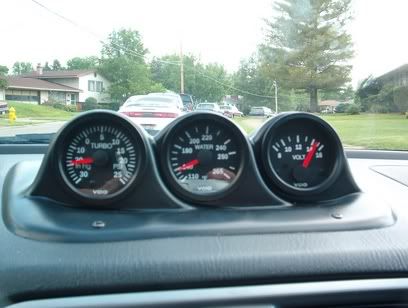 This simple pod pops right in to where your factory WRX clock used to be, using included hardware. A contoured top gives it a factory appearance. Holds three of any brand 52mm gauge.
Brand new, never been used, never been mounted.
Comes with instructions, and mounting tabs.
Price:
$80 shipped in Canada, or $120 with 3 gauges
Carbon fiber gauge pod, also holds 3 52mm gauges

I purchased this off Ebay, the buyer got it from Japan. It's a fiberglass pod, covered with real carbon fiber.
Price:
$100 for the pod, or $160 with the 3 gauges.
Boost, volts, and oil pressure gauges
Brand new, made by Glow Shift:
This Boost Gauge has the option to change between all 7 Colors. The Gauge also has memory recall so it is able to remember the last color the gauge was on. This Boost Gauge is perfect for any turbocharger or supercharger. This Gauge is perfect for cars with stock turbos. They can replace those very inaccurate gauges that are in your car. This gauge is perfect for cars with upgraded turbos and you need to rely on a professional gauge. They can read up to 30 PSI and is sufficient enough for almost all applications including race and drag. These gauges are perfect for those who run a manual boost controller and you are able to read the various changes you have made with a quick glance at the gauge. Severe engine damage is often the result with an improper boost gauge. When you increase boost without properly monitoring the levels of boost you run into trouble. We recommend that you use our Air / Fuel Gauge so you are able to monitor the fuel system so you do not run into any internal problems with the engine. Boost Gauge comes with all the necessary mounting hardware, vacuum line and T-Fitting needed to hook up the Boost Gauge.
The (52mm) 7 Color Oil Pressure gauge is the most vital gauge if any after-market upgrades have been done to your vehicle, measures the oil pressure in pounds per inch. Also includes electrical sender and mounting hardware
The (52mm) 7 Color Voltage Gauge measures between 8 to 16 volts to be sure your vehicle?s electrical system, battery, generator and alternator are working correctly.
Price:
$90 for all 3 gauges